Big Daddy's Good-Bye
Big Daddy's Good-Bye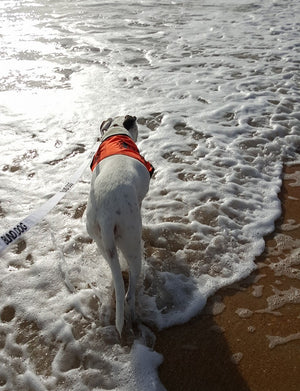 Oh, hi again. Big Daddy here. I feel like it's time for me to write my Mama a love letter, because she is the love of my life, and I'm starting to feel really tired. I think she knows, too, and I know she's sad. But I want her to know I'm OK and everything will be OK, and I love her more than life itself.
I mean, she saved me from the streets so long ago, and she made me healthy and strong again. And not only was she an inspiration for me to get better, but I think I inspired her too.
I taught her to be an advocate for the "adopt, don't shop" initiative. And she also was inspired to teach people that us American bulldogs aren't always mean dogs, it just depends on how we were raised. And boy did my Mama raise me right. She always told me how I was the sweetest good boy, and everyone else I met told me that, too. And I got to meet a lot of different people and be shown a lot of love everywhere I went.
What more could a dog like me ask for?  Mama and I did everything together, but my favorite things were the car rides we shared and going to the beach and the pool for a swim. She brought me into a family who loved me unconditionally, and I loved them unconditionally, too. I hope they know that. Oh, and Grammy, thanks for always sneaking me some
good food while you were cooking, I always appreciated that.
When I went blind, my Mama never gave up on me. We were still inseparable. She even taught people how to give me treats correctly, because I couldn't see. I didn't mind, I'm still a happy boy. And speaking of treats, my Mama loved me so much, she created an entire business of making healthy dog biscuits that I could eat because of my allergies, and she named them after me, Big Daddy. I always thought that was pretty special. Mama always makes me feel special and loved and I will always feel that way because of her, whether here on Earth or when I'm crossing the rainbow bridge and beyond.
I know she says she saved me, but I think we saved each other. I love you so much, Mama. Thank
you for giving me the most wonderful life a dog could ask for even if that meant being patient with me when I started having accidents on the floor, but still allowing me to cuddle with you in "my spot" on the couch. I think it's time for me to go now, and I think you know it, too, Mama. I'm so sorry you have to make a hard decision, but I know you're doing it because you love me and you know what's best. I love you and trust you.
Thank you for giving me a wonderful life and making me so happy. Every day was the best day with you. And to all my friends reading this post, I hope you continue to enjoy my Mama's awesome treats that were inspired by me. And whenever you give them to your dog, make sure you remind them every day of how much you love them and think of me when you give them a hug and kiss. What a great life I've had. All thanks and kisses to the love of my life, Big Mama. Please take care of her and give her a hug for me. And Mama, I'll always be with you. I love you so much.
WOOF!
Xoxoxoxo,
Big Daddy
Big Mama had to do the hardest thing Wednesday (4*11*18). Big Daddy is now walking on the beach with Big Mama's pops, smelling the sea air and enjoying the sand between his paws. His body was tired and it was time for him to rest. He deserves it and more. Thank you all for your support. Big Daddy is one of a kind.
[caption id="attachment_1329" align="alignnone" width="209"]
Walking into the sunset[/caption]
Abigale Berwager Schreier