Be Kind To Animals Week
Be Kind To Animals Week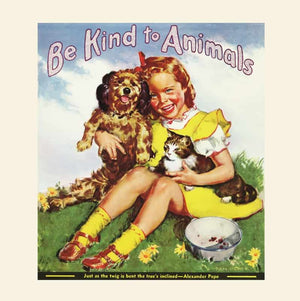 We know you love your fur babies with the fire of a thousand suns. And we know you treat them like family and you spoil them by buying them all the delicious food (and of course, high-quality treats) to ensure they're happy and healthy. And while we obviously think we should be kind to animals all day every day, the first week of May is officially "Be Kind to Animals Week." So how do we celebrate Be Kind to Animals Week, and what are ways we can celebrate this important holiday all year round?
What is Be Kind To Animals Week?
According to the American Humane website, Be Kind to Animals Week is the "oldest commemorative week in U.S. history, and the nation's longest-running humane education campaign." And American Humane was the country's first national humane organization created with the mission to help animals and save their lives. We have to be their voice and it's our job to protect and care for animals not just this week, but every day. Be Kind to Animals Week was launched in 1915, and 2023 marks its 108th year of commemoration. So this tradition is something you can celebrate every single year. "American Humane believes in building a better future for the animals who enrich our lives and planet each and every day. That's why, during Be Kind to Animals Week®, we are asking animal advocates everywhere to take our "Kindness Pledge"—which suggests four easy ways you can protect animals," the website says,
How to Celebrate Be Kind to Animals Week
By following the kindness pledge, you pledge to visit only certified zoos and aquariums, adopt from an animal shelter or American Humane Certified Pet Provider, only watch movies that support animal welfare on set, and only purchase humanely raised animal products if you're not already vegetarian or vegan. Other ways you can celebrate include reporting any animal neglect or abuse you see, rescuing a stray animal and taking it to a shelter (or fostering them!), go on hikes and get outside to appreciate nature and all it provides for us, and also take care of your own pets to the best of your ability. This can mean taking them for daily walks, making sure they have nutritious and delicious food to eat, and providing them with special treats that are healthful and delicious. 
High-Quality, Locally Made Dog Biscuits
Our dog biscuits are all made locally in a bakery right here in the heart of Atlanta. We're a small woman-owned company and only use organic, local, and fresh ingredients for our biscuits and other treats. We have grain-free peanut butter, crunchy peanut butter, and turkey bacon treats for your pups to enjoy on Be Kind to Animals Week and every week throughout the year, and Big Mama firmly believes that the best way to show appreciation and kindness to your pets is to keep them happy and healthy through deliciously nutritious foods and treats. 
You can pick up Big Daddy Biscuits at local shops around Atlanta, or visit Big Mama at the next market—where Big Daddy Biscuits are at weekly: Marietta Square Farmers Market from 9 a.m. until Noon, Freedom Farmers Market from 8:30 a.m. until Noon and the Green Market at Piedmont Park from 9 a.m. until 1p.m.
Abigale Berwager Schreier