National Rescue Dog Day
National Rescue Dog Day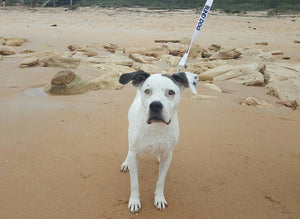 We love May for many reasons, like the weather, and all of the pet-focused holidays that ensue of course. Particularly, we love Be Kind to Animals Week, and National Rescue Dog Day, for obvious reasons. National Rescue Dog Day was founded by Lisa Wiehbrink, who was a children's book author and an executive director of Tails that Teach, an organization that helps children learn how to treat their pets properly, according to the National Rescue Dog Day website.
National Rescue Dog Day is a holiday very near and dear to Big Mama's heart, because that's how her sweet boy Big Daddy came into her life and changed it for the better in so many ways.
Many moons ago, there was a local pet rescue group called Animal Action Rescue, and it was a group of local women who loved dogs and fought for their lives. They would rescue stray dogs from the street and get them veterinary care and place them in a foster home until they were adopted. Big Mama was friends with many of the women in this group and often volunteered. She received a phone call 20 years ago that they found two scared and very hungry dogs in front of the federal penitentiary in Atlanta and they needed a foster for one of them. This dog was later named Big Daddy. Without hesitation, Big Mama took in the dog and they became inseparable. She can't remember how the name Big Daddy came about, but it's like he just always was. And it fit. 
Back in 2009, Big Mama was working at a corporate job in HR for a massive airline, and she got laid off because of the recession. After the layoff, Big Mama was plotting her next career move while she was sitting on her front porch with her niece and nephew (who were 8 or 9 at the time). "What do you guys think I should do next?" she asked. They responded that she should make dog biscuits. "Dog biscuits?" Big Mama said incredulously. "I don't even know how to bake! What would I call it?" The kids responded, "Obviously, you'll name it Big Daddy Biscuits." 
So Big Mama went straight to the store and bought a kitchen mixer to teach herself how to make dog biscuits. The official first Big Daddy Biscuit was organic and grain-free, because that's what Big Daddy needed for his allergies. And thus, Big Daddy Biscuits was born.
Other than the potential to create your dream job and start your own dog biscuit company, why is having a rescue dog so important? 
According to bestfriends.org, as of 2023, 4.6 million dogs and cats were put into shelters, and out of that number, only 3.8 million were saved. The rest were euthanized. In Atlanta alone, 12,645 pets entered the local LifeLine shelter in 2022. That's a lot of animals who desperately need homes. These numbers are so high for many reasons, but there are two major reasons: One is irresponsible backyard breeding and fighting, then dumping these dogs when they're no longer wanted (or profitable). And another is by folks who only want purebred dogs and buying from a breeder, then dumping them at a shelter when they don't want them anymore. Plus if you're buying a designer dog from a breeder, you're not adopting a dog who needs a home out of a shelter and contributing to the overpopulation of animals in this city by getting a puppy.
Rescued animals are the best, because they're so grateful to have a home, they're resilient, and make wonderful family pets. Plus, you're saving not one life, but two, because you're making room for another pet to be saved from the street or to be brought in and not dumped on the side of the road like Big Daddy.
To celebrate National Rescue Dog Day, you can volunteer at your local animal shelter, educate people about the importance of rescuing animals, post a photo of your rescue pup, share about the importance of spaying and neutering your pets, donate money to your favorite local shelter, or adopt a dog if you have the means and the time commitment to take one in. If you're local to Atlanta, head over to Park Pet Supply to get your adoption bundle for just $5, and you'll get a massive box full of kibble, raw food, bones, treats, supplements, and more—all because you adopted a dog. 
Or you can spoil your own rescue pup rotten. Visit Big Mama at the next market—where Big Daddy Biscuits are weekly to grab your rescue pup some bones and treats. She's at the Marietta Square Farmers Market from 9 a.m. until noon, Freedom Farmers Market from 8:30 a.m. until noon and the Green Market at Piedmont Park from 9 a.m. until 1p.m.
Abigale Berwager Schreier