Pet Appreciation Week
Pet Appreciation Week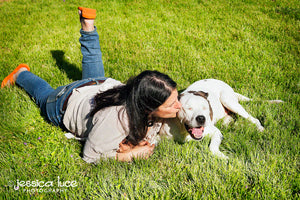 6 Ways to Celebrate Pet Appreciation Week
Pet parents know that we don't need a holiday for us to appreciate our pets. We spoil them everyday already (as it should be). But if you wanted to go above and beyond and totally be that "extra" pet parent, Pet Appreciation Week is the first week of June according to the American Veterinary Medical Association (VMA). This fur-tastic holiday has been around since the early '80s, and every year pet parents and pet lovers can celebrate this holiday by spoiling their fur babies a little bit extra this week, raising awareness about pet care and pet-related issues, getting out into the community and volunteering at a shelter, or helping pets in need in other ways. 
What is Pet Appreciation Week?
Pet Appreciation Week was created by the VMA, and its purpose was to raise awareness of the benefits of having a pet. If you follow the VMA on social media, it is during this week that you'll find the association sharing helpful tips and techniques to help pet owners improve the lives of their furbabies.
Ways to Celebrate Pet Appreciation Week
Utilize the #NationalPetWeek hashtag
Whether searching for more information about the week or posting your own photos and shots of your celebrations, using this hashtag during Pet Appreciation Week will connect you to other like-minded (and awesome) pet owners.
Surprise your pet with a new toy or treat
You can't go wrong with spoiling your furbaby during Pet Appreciation Week. Whether it's buying them a new toy, or purchasing some new treats, such as our organic, farm-to-table dog treats, your furbaby is sure to feel appreciated and loved. 
Feed them a homemade meal 
Obviously check with your veterinarian first for what's safe, but whipping up a homemade dinner for your furbaby is another way to show them you love them. If you check out the Animal Health Foundation website, they can guide you on what foods are not safe for dogs or the ASPCA website for what foods are dangerous for cats to eat. 
Take them to a new park
If your dog loves dog parks and making new friends, check out where your local dog parks are in the area and let them have a romp. You can also invite your friends' furbabies over to your house for a playdate if you have a big fenced-in yard.
Volunteer at a shelter
Even though these animals aren't someone's pet yet (or they were formally someone's pet), they deserve love, too. Check out where your local animal shelters are near you and call and ask if they need volunteers or donations. We guarantee they'll need help, even if it's just dropping off supplies or petting and walking the animals.  
Adopt a pet
There are so many animals that need homes, and what better way to celebrate Pet Appreciation Week than to adopt a new pet for your family to love and cherish for the rest of their life? Adopting a pet is much cheaper than buying one from a breeder (and WAY more ethical), so not only will you be adopting a new family member, but you'll be saving a life in the process. And what shows more appreciation than that?  Head over to PAWS Atlanta or LifeLine Animal
No matter how you choose to celebrate this holiday, we're here to help you spoil your furbabies rotten. To pick up some special treats for that special pet in your life, come see Big Mama at a farmer's market near you: Marietta Square Farmers Market from 9 a.m. until Noon, Freedom Farmers Market from 8:30 a.m. until Noon and the Green Market at Piedmont Park from 9 a.m. until 1p.m.
Abigale Berwager Schreier