Celebrate Earth Day with Big Daddy Biscuits
Celebrate Earth Day with Big Daddy Biscuits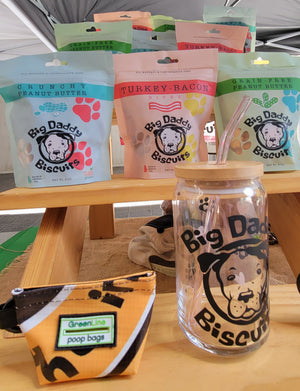 Along with those April showers (which brings May flowers) comes another important event for spring weather—Earth Day. Earth Day is on April 22, but we feel like it should be celebrated all the time, especially during the spring and summer months when everyone is outside and enjoying nature with their furkids. There are definitely some ways to ensure we are able to enjoy nature and all it has to offer for a long time, as long as we do our best to do right by Mama Earth.
Speaking of mamas, Big Mama has some tips up her sleeve for pet owners on how to live your best sustainable life and lower your carbon footprint (or pawprint) when it comes to pets and sustainability. And she's also got some items for humans and their furkids to use to help them reuse and recycle.
Want to become a more sustainable pet owner? One easy way is to use biodegradable or compostable poop bags when you take your furkids for walks. Did you know that if you don't pick up after your dog, not only does it leave bacteria and parasites for other dogs to pick up, but when it rains, that poop can be washed into drainage systems? Then that poop can be carried into our rivers, lakes, and other water systems. Definitely not Earth friendly. A compostable poop bag will break down in 6 to 12 months, whereas a regular plastic bag can take up to 500 years, so be sure to always pick up after your pooch using a biodegradable or compostable poop bag.
Not only does Big Mama sell durable handy dandy poop bag holders, but they were sustainable made by reusing old banners featuring Big Daddy on them.  If you're in Atlanta and want to also lessen your carbon footprint while doing good for the environment, you can shop local at Park Pet Supply in East Atlanta Village and purchase compostable or biodegradable poop bags to put into Big Daddy Poop Bag Holder.
Do you have a huge basket of toys that aren't being shown the love lately? If you have gently loved dog or cat toys that your furkid isn't interested in anymore—or if they've passed on—then you can absolutely donate these toys to shelters who desperately need them. This is a wonderful and kindhearted example of reusing items instead of having to buy new. Or you can even do a toy swap with the other furkid parents in your life. What's boring to your dog may be a complete novelty to their buddy.
For the humans, if you're getting thirsty on hikes or walks with your furkid, try using a reusable container for water (or your beverage of choice) instead of a bottle of water or canned drinks. Big Mama created a beverage container (complete with a lid) for you to take with you on the go—whether that's to work, or out and about with your furkid. Of course what makes this glass better than other glasses is that it features Big Daddy's adorable face on there. What's better than that? 
Don't forget about recycling your pet's food pouches and bags. Many places offer recycling for those dog and cat food bags, and you can find the information on what type of plastic or material the bag is by checking out the labels. If you're local to Atlanta, you can recycle dog and cat food bags at CHaRM, or even your local grocery store.
There are plenty of ways to lower your carbon footprint and be more sustainable as pet owners, but a few really easy ways include using reusable containers, recycling food bags, and picking up after your dog with compostable and biodegradable poop bags. It's also helpful to shop local and buy your pet items from locally owned stores. Big Mama's got you covered for your spring and summer walks with your furkid, and you can pick up those sustainable items at the next market that Big Daddy Biscuits are at weekly:  Marietta Square Farmers Market from 9am until Noon, Freedom Farmers Market from 8:30 until Noon and the Green Market at Piedmont Park 9am until 1pm.
Abigale Berwager Schreier