Who rescued who?
Who rescued who?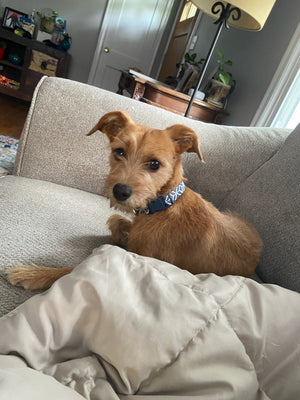 When Big Mamas dear friend adopted a dog, she asked her to write about the experience.  Take a read.....


Right? That is what they say when you get a rescue. I'm here to attest to that. About 4 months ago I started to look for a rescue dog. I wanted a smaller dog that was social and good with people and other dogs. But little did I know, so did everyone else!! The rescue world for smaller dogs is vicious. Ok maybe just slightly aggressive. One interview made me cry. Really, I promise you that I am
a good person and I will be a good doggie mom. So many applications, so many meet and greets that I didn't get invited to because I was too far back in the line. I didn't need a specific breed, just a sweet dog.

Every night I looked at each rescue group and I checked Pet Finder incessantly. I filled out more applications. Rescues are specific about what kind of home the pet needs. So, there were lots of applications that I didn't fill in. Many dogs needed another doggie companion in the home. And I didn't qualify!

So, there I was lamenting that I would never get a dog when the phone rang and Barbara from the Fayetteville Humane Society called to see if I was still interested in "Henry"? I said YES!!! (And then ran to look up Henry on Pet Finder!)

"I'll be there tomorrow!" An hour drive later and I met Henry. Since they weren't sure that was even his name, Henry quickly became Max.

Max is perfect. He snuggles. Loves people. Hangs out around other dogs, asks to go out and is just the sweetest dog you could wish for.

So what's the moral of the story? Be patient. Be kind. Thanks volunteers for being so picky!?! And love on your Max as much as you can.