Big Daddy Biscuits Loves Atlanta Farmer's Markets
Big Daddy Biscuits Loves Atlanta Farmer's Markets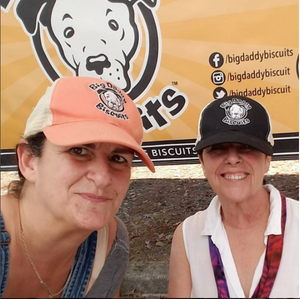 Don't just shop for yourself the next time you're out at the local Farmer's Market. Be sure to stop by one of the Big Daddy Biscuits tents to grab your furry friend some delicious, all-natural goodies. We like to use the phrase "Farm-to-Table Dog Biscuits" when describing our treats to demonstrate our commitment to using only the finest and freshest ingredients. At Big Daddy Biscuits we use all-natural, organic, fresh, and locally sourced ingredients to make high-quality treats for your dogs because they deserve it. Farmer's Markets are a great way for us to give back to the community and to support our local farmers.
Find Us at Your Local Farmer's Market. Our tents are full of treats and goodies for your four-legged friend. At any of our tents, you can choose from a wide selection of treats from grass-fed rawhide treats to handmade flea deterrent soap. You can find us at the following Atlanta Farmer's Markets:
Marietta Square Farmer's Market Saturdays 9 am-12 pm (Year Round)This expansive Farmer's Market offers, on average, 65 vendors and hundreds of customers each week. The vendors are committed to producing the highest quality handmade goods for their customers. Stop by our tent on Saturdays to pick up all-natural, locally sourced goods for your dog.
Piedmont Park Farmer's Market Local Farmer's Market is serving Atlanta's Midtown population with fresh, clean, and local food. While you shop, you can enjoy live music, chef demonstrations, and kid-friendly activities. Stop by our tent with your pup for some tasty snacks.
Freedom Farmers Market at the Carter Center; Saturdays 9 am-12 pm Carter Center, this Farmer's Market offers live music, a kid's tent, a local chef with hot prepared foods, and of course a range of organic, local products. At the Freedom Farmer's Market, you can find us in the Moore Farms and Friends tent. Join us this weekend at your local Farmer's Market and grab some organic treats for yourself and your furry friend.