Help Fido Look (and Feel) Paw-sitivley Incredible
Help Fido Look (and Feel) Paw-sitivley Incredible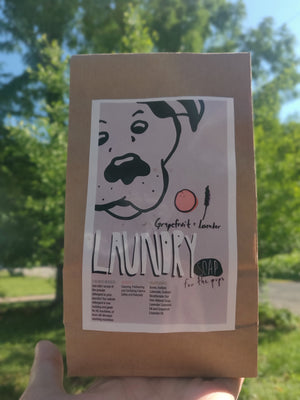 Have you ever found yourself in need of a little TLC? You're not the only one — chances are your pup has, too.
And when it comes to taking care of your four-legged best friend, finding a line of care products that are safe and effective can be difficult (not to mention costly). 
That's why we've launched a line of homemade dog care products designed to have your pup feeling fresh and clean without breaking the bank or harming their skin. 
Here are a few of the products you can add to your next dog spa day:
All Natural Nose And Paw Soother
Have you noticed your dog's nose drying out or cracking? This nose and paw salve can help nourish and protect their skin, while also providing anti-bacterial and anti-inflammatory properties that can improve your pup's overall skin health. Plus, since all of the ingredients are sourced from organic farmers in our home state of Georgia, you can feel good knowing you're getting the freshest, safest ingredients. 
Handmade Flea Deterrent Dog Soap
With warmer weather comes more fleas — so help protect your dog with our handmade flea deterrent soap. Made from all-natural ingredients like eucalyptus, lavender and tea tree oils, this soap will help keep fleas away and leave your puppy's fur feeling soft and healthy. Not to mention, it'll make bath time a breeze (all you have to do is lather it up and scrub like you would your own bar soap).
Laundry Soap for Pets
Whether it's the couch cushions, your living room rug or your bedroom comforter, chances are your dog spends a majority of its day lying on fabrics around your home. That's why we created a line of laundry soaps that help clean and freshen your fabrics without irritating your pup's skin. Our Rosemary Sweet Orange soap and our Grapefruit Lavender soap are both handcrafted using our organic in-house soaps and include essential oils for an extra boost of fragrance. Because they're all-natural, they're low sudsing and great for high-efficiency machines and traditional machines alike.
Want to learn more about how Big Daddy Biscuits can help your pup live their best — and healthiest — life? Click
here
to check out our full product catalog!